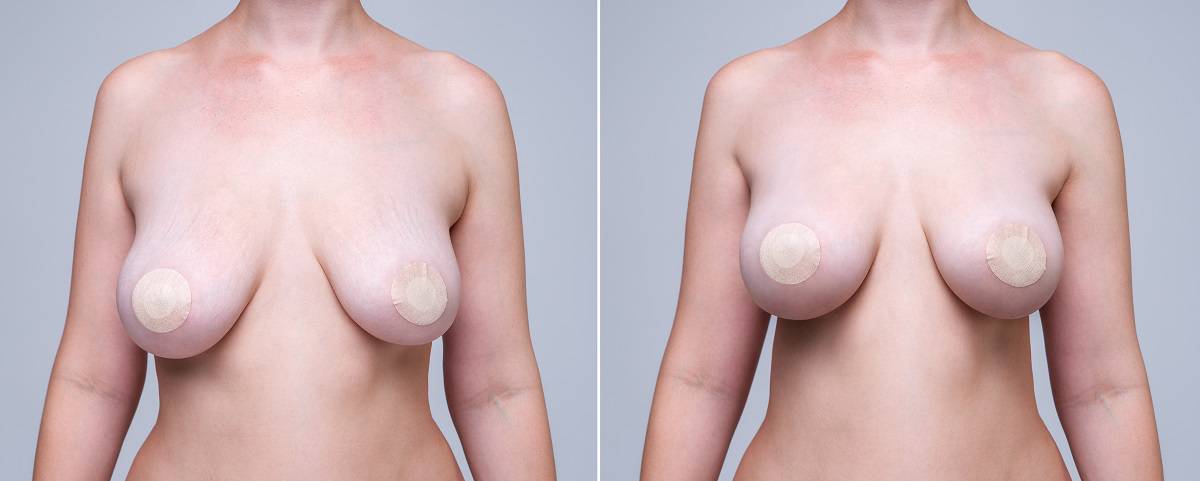 Breast Augmentation
Breast implants are arguably the easiest way to improve breast symmetry. Not all breast augmentation surgeries involve dramatically increasing the size of the breasts. Smaller implants are ideal for helping your breasts to match — it may even be possible to achieve symmetry with a single implant — without significantly altering your bust size. That said, if you would like your surgeon to enhance the size and shape of your breasts, this is also a great procedure to meet those goals.
Breast Reduction
You can also improve breast symmetry by decreasing the volume of your breasts (or one larger breast). Your surgeon can artfully remove excess breast tissue so that your breasts look more like twins. While it may not be necessary to remove a lot of tissue to achieve harmony, you may also choose to downsize more significantly to reach your preferred proportions — which may even help to eliminate chronic back, neck and shoulder pain.
Breast Lift
Even if your breasts have a similar size and volume, you may find that one breast hangs lower than the other. To address this cosmetic issue, your surgeon can remove the excess skin from the breasts so that they can rest at an elevated position on your chest. Although it is possible to lift a single breast to match the other's elevation, most patients decide to lift both for a rejuvenating effect and longer-lasting symmetry.
Nipple Resizing
Sometimes, only the nipples and areolas (the dark pigmentation surrounding the nipples) do not correspond. If one areola is larger than the other, nipple reduction surgery can remove some excess tissue so both areolas have the same circumference. Another option is nipple inversion surgery, which ensures that both nipples project outward. Notably, if a nipple is lower on one breast than it is on the other, this is probably most effectively addressed with breast lift surgery.
Schedule a Consultation
Dr. Gregory Mackay, Dr. Bahair Ghazi, Dr. John Symbas and Dr. Jinnie Page are leading plastic surgeons in Georgia. If you would like to learn more about the ways you can improve your breast symmetry from one of our breast specialists, please call our Northside office at (404) 255-2975 or Piedmont West office at (404) 343-0897.